The package is designed for you, your family just to buddy up and go! No instructor is included during the route.  you take the kayaks, and we will meet you after 3 days and transport you back to our basement (or your location as extra).  This is cheapest, simplest and most fun!
Kayaking distance: 57 km (45 km)
Difficulty level: Beginners, Medium
Note: in case of  south-west winds this route becomes challenging and  the difficulty increases from medium to medium or high. This type of wind happens very rarely.
Price calculator for this tour is: the number of full days, counted as one full day price multiplied to number of days.
Duration: 3 days
Start hour: can be agreed with the group. 
In the weekend additional transportation is arranged from Chisinau and back for an extra 10 eur/pers for a group of 15 people and more.
Route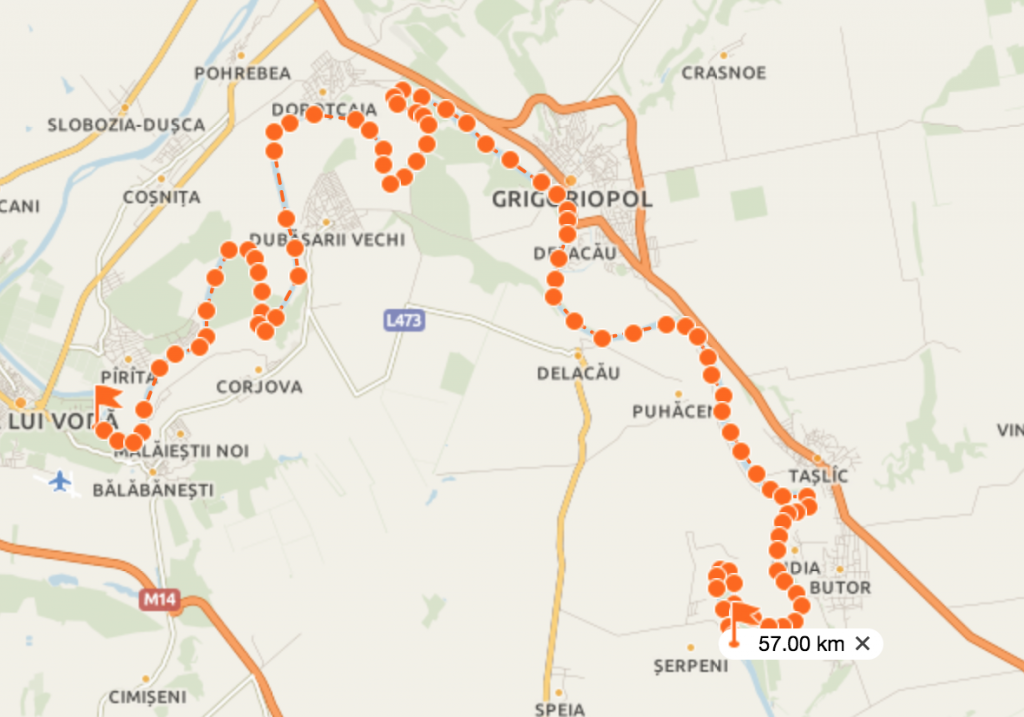 Itinerary
When the group is ready, they are transported from Vadul lui Voda basecamp to Criuleni city, where the route will start.
Before the group starts the instructions are done and each participant is trained:
how to get into the kayak;

how to get out of the kayak;

how to pedal correctly;

how to turn left-right;

rules on who is sitting in the back and in the front;

how to stop and park the kayak;

other
Each participants carry their kayak from the trailer to the river (20 meters). After training is done, each participant signs an agreement for being responsible for himself and the other participants in his(her) boat.
There is absolutely no risk for people who can't swim. the kayaks we use, are very stable, and during 4 years we have never had a case when the kayaks would overturn. The professional life vests are keeping the participants absolutely safe.
The average water speed is about 4 to 5 km/hour. Groups usually have 2 stops during the route to get sun bathes, swim, or just take their lunches. When route finishes, each participant gives back the kayak in a clean form and help to carry it to the trailer.
What is included:
kayaks;

life-vests;

instructions on the starting point;

transportation with kayaks from the finish point back to Vadul lui Voda Basecamp. 
Additionally available for extra cost:
Tents;
Sleeping bags & mattresses;
Germo bags (antiwater);
Fire cooking equipment;
Logistics & Transfers.
What to take with you:
Kayaking means exposure to the sun almost the whole day. We recommend that you make sure you have the following things with you:
swimsuit and sun protecting cream – if you want to catch a beautiful tan! or long-sleeved shirt and long pants if you want to protect yourself from the sun ( recommended);

hat, sun protection cap (hat is preferred, to cover neck and ears), bandana to cover neck;

sunglasses;

comfortable shoes to get into the water;

anti-mosquito cream/spray (only if you plan to stay overnight somewhere);

bottle of water;

gloves (as desired);

zip-lock package, or a hermetic closing case – something for protecting your cell phone/camera from getting wet.

the powebank (battery to charge your cellphone, camera);

some specific medicine (if necessary).
Guide
We have a list of people who might be available to lead your group for extra cost. Please contact us for options.
Food & drinking water
By default, no food is arranged for the group by the organizer. Also there are no drinkable water on the river.
The Food could be arranged in a form of Catering as an extra, and the price depend on the menus agreed. Kayaking tours have arranged few places on the river with tables/seats, down the river where the participants could have their lunches. This places are marked and could be easily observed from the water.
Alcohol & drugs
Any form of alcohol consumption on the river, or getting in the kayak being drunk is strictly prohibited, and the money paid for the tour are not returned. Any form of drugs is strictly prohibited. Before you start the route we sign the contractual agreement, in case of any alcohol on the water in your group – the fine is 20000 mdl. 
Group size
Standard group size is 5-25 persons. Please contact us for a larger group options. 
Offer
Duration
Max persons
Standard price

Kayaking with your team 3 days

Tour without a guide, just with your friends.

50

100

75€

luni, marti, miercuri, joi

90€

vineri, sambata, duminica
Offer
Kayaking with your team 3 days
Tour without a guide, just with your friends.
Price
75€
luni, marti, miercuri, joi
90€
vineri, sambata, duminica